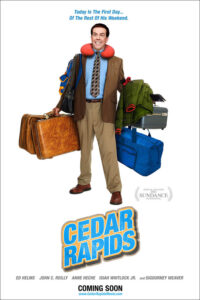 The undeniably sweet "Cedar Rapids" should further the rise of actor Ed Helms. After the crazy success of "The Hangover" in 2009, Helms has managed to jump from series regular on "The Office" to potential theatrical feature headliner. And his solid, endearing turn as the square Tim Lippe in "Rapids" is not to be missed.
Where Zach Galifianakis tried to extend the "Hangover" with the uneven "Due Date," Ed Helms makes a better choice by giving us an entire unique and fresh alternative. In "Cedar Rapids" Helms plays Tim Lippe, an introverted insurance salesman who lost his parents when he was younger but still hasn't moved out of the house. It as though he's 30 plus and still living with momma. In fact, Tim's having a casual affair with one of his former elementary school teachers old enough to be his mother. Of course, the teach is played by the forever sexy Sigourney Weaver. Lippe is forced out of his shell when the top agent at the insurance firm he works for dies under embarrassing circumstances. Lippe's boss, Bill Krogstad (Stephen Root), sends the naive Lippe to an insurance conference in Cedar Rapids in hopes of capturing a top industry award. The honor was previously bestowed upon Krogstad's company, but since it has a lot to with morality, the recent tragedy in the firm has put another award in doubt. Lippe is instructed that he is to stay away from Dean Ziegler (John C. Reilly). Of course, the two are drawn to one another, and the drunken, irreverent Ziegler might be just what Lippe needs to finally grow the heck up.
"Cedar Rapids" may be rated "R" for language, drug use, and adult situations, but the heart at the center of the story sets it apart from other raunchy comedies. While I could have done without one scene involving drug use that will satiate "Hangover" fans, the movie is all soft and gooey and a bit of adult-skewing clean fun. And for those of you not familiar with Ed Helms everyman brand of comedy, "Cedar Rapids" is the perfect introduction.
The supporting cast is flat out terrific with Reilly in full-blown lovable loser mode. Anne Heche cuts quite a figure as a yummy mummy, and Isiah Whitlock, Jr., gets to spoof his own television work with hilarious results. In fact, the script smartly gives Whitlock one of the most complex characters in the film, and Whitlock runs with it.
"The Hangover Part II" is on its way in May, but fans would do well to visit "Cedar Rapids" in the meantime.
Please follow and like us: