Moorhead and Benson return with more time-twisting.
Low-budget sci-fi thriller pushes big ideas.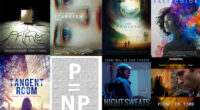 Jonathan surveys four low-budget sci-fi films you can watch right now.
Interesting idea for a short film has trouble translating to feature length.
Indie sci-fi film succeeds by staying focused.
The second time around gets messy.
If you liked "Primer," Jonathan thinks you'll dig this one.
Krasinski and Blunt find their quiet place
Peace, love, and lack of understanding, the zombie genre continues to evolve.