Not everything that Jason Blum produces is good. Exhibit "A:" "Truth or Dare."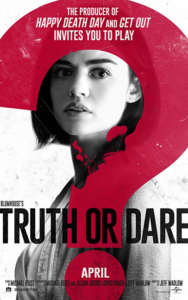 Destined to cover its reasonably priced budget in the first week of release, and likely to spawn direct to streaming sequels, "Truth or Dare" marks a low-point in the now storied history of Blumhouse Productions, a company that can just about do no wrong. But does the dearth of ideas present in this movie mean that the house that Blum built is in decline?
Starting with a simple idea, "Truth or Dare" assembles an attractive and popular cast to play out a horror concept that seems dated and lackluster. When Olivia (Lucy Hale), Lucas (Tyler Posey) and their friends take off to Spring Break in Mexico they get duped into a game of, yes, truth or dare. Meant only as a sexy drinking activity to pass the time, the game is initially played in the ruins of an old church. And we know that can't be a good thing.
After returning from Mexico, Olivia, Lucas and their friends begin to see spooky visions that are also manifested on their digital devices. They are told that the game is still on, and it is progressing at an ever aggressive pace. If they don't play, naturally, they die. And the harbingers of these warnings often appear to have an abnormally freakish smile on their collective faces.
Unraveling the mystery of the game's origins leads Olivia down a rabbit hole of foolishness that provides director Jeff Wadlow (the guy who ended the "Kick Ass" franchise) an opportunity to cleverly mount some effective kill scenes. I have to hand it to Wadlow. This is a PG-13 film that is nearly bloodless, but through sound design and quick editing contains some jarring, don't look now, death sequences. But what could have been a variation on "Final Destination" seems a bit watered down in places probably because of the desire to hit the "Pretty Little Liars" demographic.
Performances are fine. However, the utter ridiculous of the script has some laughable lines of dialogue that are clearly a wink at the viewer. "We know that you know how stupid this film is," is what I think we're getting here. And the objective is to just get to the kills already.
"Truth or Dare" is a rough looking film. That's not a knock, but a choice made by the producers to use the crunchy, high contrast Carpenteresque look and feel that is cinematographer Jacques Jouffret's style. This film is a slightly lighter looking take on Jouffret's digital 16mm film approach that he's applied very effectively in his work on "The Purge" franchise.
Ultimately, "Truth or Dare" is a weak b-movie, that has been punched up by Blum's producer credit and the popular cast. It's certainly not a good film. And, hopefully, it is not a sign of things to come from the Blumhouse team.
Please follow and like us: