Elisabeth Moss stars as June Osborn aka Offred in the HULU series.
"Justice has been done!" Famed attorney Gloria Allred proudly proclaimed to reporters yesterday outside a courthouse in Norristown, Pennsylvania.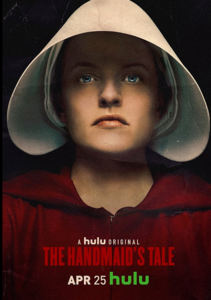 A long, hard-fought battle culminated in the announcement of stunning guilty verdicts on charges of sexual assault. And just in case you've missed the 24-hour news cycle, the defendant was none other than America's Dad Bill Cosby.
Allred went on to praise her 33 clients' courage.
"Finally, we can say that women are believed, not only on hashtag MeToo, but in a court of law, where they were under oath, where they testified truthfully, where they were attacked, where they were smeared, where they were denigrated, where there were attempts to discredit them. And after all is said and done, women were finally believed."
Consider the set-back the significant, growing movement would have received had the verdicts gone the other way.
Allred's powerful words rang through my head while watching the first two episodes last night of HULU's impressive season two of "The Handmaid's Tale." The adaptation of the Margaret Atwood dystopian novel first published in 1985 starts with so much raw brutality that it is a tough watch.
But while season one contained many disturbing moments, season two takes the gloves completely off. And in the age of #metoo, where backlash is brewing against brave women who seek to level the playing field, it is entirely possible that we are one natural disaster away from the rise of a totalitarian regime.
Okay, maybe that last statement is a bit too dramatic.
However, the slide into the dystopian future on display in "The Handmaid's Tale" feels quite genuine. The story posits what might happen if reproduction slows to an almost trickle, and the US government is taken over by religious zealots, whose primary mission is to find a way forward for the human race. And that means fertile women are subjugated and made to serve as breeders for the ruling class. Because of religious hangups, the methods of breeding shun science in favor of the old natural ways. It's all very visceral and not the least bit sexy. And that's the point.
One fertile young woman is June Osborn (Elisabeth Moss). We meet her in season one after she's separated from her husband (or partner) and daughter and forcibly assigned to a ruling household. She is to serve as a handmaid for Commander Fred Waterford (Joseph Fiennes), who is one of the fanatics responsible for the new form of government. June is to bear him children. But she and others are constantly trying to escape to Canada, where there is the promise of freedom.
In episode one entitled "June" of the second season of this Golden Globe winning series now streaming on HULU, Offred/June struggles to survive in the wake of the events that concluded season one. She's no longer safe, and the opening sequence will put a lump in your throat in just minutes. When it is discovered that she is carrying a child, Aunt Lydia (a particularly chilling Ann Dowd) goes to extraordinary measures to force June to comply.
Meanwhile, in "Unwomen," episode two, season one's defiant Emily (Alexis Bledel) has been exiled to a gulag, where we learn that she has particular useful talents. When a former ruling class house mistress (Marisa Tomei) appears as an inmate in the prison, Emily takes a shine to her. But that might not be a good thing.
"The Handmaid's Tale" is impressive television. By building on Atwood's ideas, that are now more than thirty years old, the producers manage to contemporize the narrative in a particularly relevant manner. It should resonate with even the most hardened and cynical viewer.
Hinging on a natural disaster, "The Handmaid's Tale" might seem to be merely a work of unrealistic science fiction. However, what if that disaster were one that is played out in courts of law. If we learned anything from yesterday's verdicts in the Cosby trial, we know how easily a movement as important as MeToo can be damaged just by a jury of twelve.
The voices are raised, courage is on display, battles won, but the war continues. It's a war for equality not one aimed at turning the tables. And in our system, justice is blind.
Episode three of season two of "The Handmaid's Tale" can be streamed on HULU starting on May 2nd.