If you've not seen "Black Panther" prior to seeing "Avengers: Infinity War" you're in luck, both films are likely playing at your local metroplex.
Breaking all sorts of weekend and worldwide records, "Avengers: Infinity War" amassed an estimated $630 million in domestic and international receipts in its opening weekend. And that was without China, where the film will open on May 11.
But what was impressive is the legs that "Black Panther" demonstrated by climbing back into the top five last weekend while "Infinity War" was dominating theaters. Repeat viewing was common with "Panther," but look for repeat viewing for "Infinity War" to be the norm. Registering an "A" CinemaScore, the dizzying narrative contains so much information that fans will need several viewings to log it all. Some, even the non-critics, will likely take notes.
"Infinity War" broke records held by fellow Disney release "Star Wars: The Force Awakens" with an estimated $250 million domestically compared to "Force's" $247 million in 2015. And while that is good news for Disney, the undeniable winner all around is Marvel. Three more of its comic book properties will be released this year. And the "Avengers" effect is not going unnoticed even by non-Disney releases.
Leaping on the bandwagon was prolific tweeter and naturally funny human being Ryan Reynolds, who plays Deadpool for another studio in the soon to be released sequel. He tweeted a coffee-stained rejection letter allegedly penned by Disney/MCU character Tony Stark. The linking of the two universes is clearly part of an overall marketing strategy, but reinforces what we already know: Marvel is the gift that keeps on giving.
But while the Sony/Columbia project "Venom" is teasing out secrets of its dark vision of the symbiote that once infested Spider-Man, Disney is readying its other Marvel release of the summer, "Ant-Man and the Wasp." Passing references were made to the insect inspired superhero in "Infinity War," but notably Paul Rudd's chatty Scott Lang aka Ant-Man did not make an actual appearance in the movie.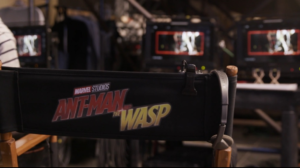 Still, it is likely that "Ant-Man and the Wasp" will hit just at the right time on July 6 in the throws of a long 4th of July weekend. And expectations should be high as director Peyton Reed returns to continue the story of Lang's growth as a hero with new addition The Wasp, played by Evangeline Lilly.
The real question is whether ending the MCU (arguably) 2018 cycle in October with "Venom" will strike the right tone. While the trailers for that movie look dark and troubling, and the moodiness associated with character requires such treatment, it will stand in stark contrast to the "Ant-Man" sequel. But the director of "Venom" is Ruben Fleischer, who has great comic-horror chops having given us "Zombieland," a movie in desperate need of a sequel. If we've learned anything from "Infinity War" and, certainly, "Deadpool," a little self-aware comedy goes a long way. Even though some are hoping for some Cronenberg-esque body horror elements in the film, my hope is that Fleischer will also find a way to bring some dark humor to "Venom."
Please follow and like us: