Two, possibly three movies in one, "Sorry to Bother You" is something completely different—unique in its ambition.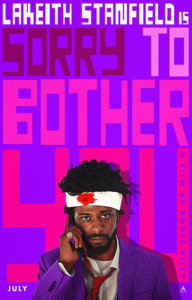 In the wake of the success of "Get Out," we'd expect a host of imitators, and while comparisons between the two movies are inevitable, "Sorry to Bother You" is its own animal altogether.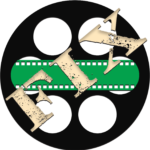 When down-on-his-luck Cassius Green ("Atlanta's" Lakeith Standfield) decides to take a job as a telemarketer, he realizes that he's got a hidden gift—he has access to a "white" voice. This is the special ability to speak and sound like a white person (the dubbed voice of whiter than white David Cross). By unlocking this freakish, new talent, he's able to sell almost anything to anyone with merely a phone call.
This new magical ability gets Cassius noticed by the suits upstairs. And before he knows it, he's turned into a "power caller," a position that promises unlimited wealth. The head of the company, Steve Lift (an unhinged Armie Hammer), sees a big future for Cassius.
But while Cassius is climbing the corporate ladder, his artist girlfriend, Detroit (Tessa Thompson), is getting more and more into the growing resistance movement. She's teamed up with a shadowy group that uses graffiti to deface corporate billboards and signs. And their biggest target is the parent corporation of Cassius' employer. Needless to say, Detroit and Cassius are headed for a crash. This becomes even more complicated when an idealistic union organizer named Squeeze (Steven Yeun) catches Detroit's eye setting up a class-warfare love triangle of sorts.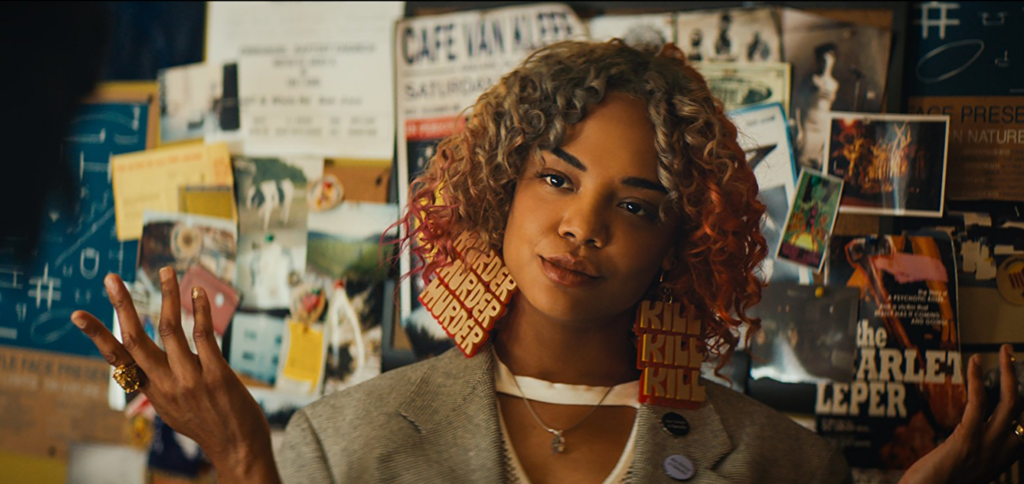 Set in what appears to be a parallel universe, the world of "Sorry to Bother You" resembles something from the Mike Judge school—think of the opening sequence from "Idiocracy." And this means that we get exaggerated racial and economic divides. Of course, in reality, these divides, while humorous and satirical, contain nuggets of undeniable truth. And the hip setup teases laughs without preparing you for the nightmarish concluding act. Warning, "Sorry to Bother You" is a very blunt message movie that will hit some viewers right between the eyes and, at the same time, angrily frustrate equal parts of its audience.
In addition to moments of salty, biting social commentary, the other key to making Riley's ambitious hybrid comedy/science fiction satire work is casting. Stanfield is uniformly excellent. Having followed his progress on "Atlanta," where he plays one laid back, but street-wise cat, he's quickly become one of the actors I most anticipate seeing. And by pairing him with Tessa Thompson, you get an unusual couple with texture and surprising chemistry. The sexy, yet, accessible duo have something important to say, and my feeling is that they will connect with the viewer more than turn audiences off.
In one scene that easily redeems the film's wildly uneven second half, Thompson takes Detroit to an ultra satiric level. The arguably sadistic scene, involving a bit of performance art, is worth watching again to understand its sophisticated point involving race, class, and capitalism and, of course, exploitation.
In this jaw-dropping sequence, teased in the trailers, Thompson, on a makeshift stage, stands nearly naked, clothed in what appears to men's black leather gloves covering her body like a fig leaf. She bares herself, for the sake of her artistic message, before a gawking crowd of intellectual elites. Stanfield plays Cassius perfectly by mimicking our own outrage and shock. He's incredulous that his girlfriend has voluntarily subjected herself to abuse on the public stage. The provocative nature of that scene, like most everything in the film, is an experiment on top of an experiment, a satire built on satire founded on parody. Layers aplenty, and something important is at work under it all.
But wildly uneven is the hallmark of "Sorry to Bother You." Writer/director Riley, making his long awaited feature debut, knows well what he's up to—from one scene to the next, trying on a new fashion and then casting it aside in favor of another style or genre. What starts as a clever comedy involving a guy who discovers an edgy superpower, becomes a crazed science fiction film reminiscent of indie cult oddities like Alex Cox' "Repo Man." It's all very exciting, at least to me, and I'll bet that I'm not alone.
Please follow and like us: