Featuring two fantastic performances, "The Wife" raises many provocative questions, but not just the obvious ones.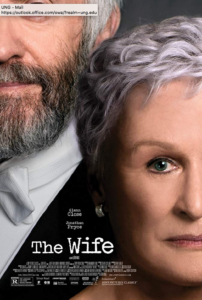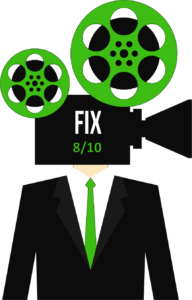 Joan met Joe in college. He was a passionate professor, and she was his adoring student. He also had a thing for walnuts and writing messages on them to his romantic conquests. When Joe leaves his wife to be with Joan, his writing career takes off. Sometimes all that is needed to spark creativity is a good muse.
Years and many best-selling novels later, Joe receives a call in the middle of the night. He's being awarded the Nobel Prize for literature. Joan (Glenn Close) and Joe (Jonathan Pryce) dance gleefully on the bed. They are happy and the honor is theirs to be shared. But Joe gets all the credit.
Less a mystery and more a chronicle of the crushing pressure of hiding a great secret to one's detriment, "The Wife" becomes a showcase for two great actors. The story is particularly relevant today in the wake of the MeToo movement and efforts to level the gender playing field. But the relationships are what makes the film work. Especially the relationship Joe and Joan have with their children, and in particular with their son David (Max Irons).
A would-be writer, who is struggling to find his voice and his place in the world, David seeks acceptance and understanding from his mega-successful father. But Joe offers up little of substance when talking about the boy's writing. One questions whether he has even taken time to read what David has written. On the other hand, we can tell immediately that Joan has taken each and every word from her son and turned it over carefully. But it isn't her opinion that he wants.
There is no mystery to the central conflict present in "The Wife." Joe plays the figurehead and Joan is the true talent behind the great works. And in an attempt to get to the truth, a scummy biographer named Nathaniel (Christian Slater) keeps poking around. No one plays smarmy as well as Slater these days, and in one scene, his Nathaniel even makes a play for Joan in hopes that she will open up to him. His instincts are right, of course, but getting confirmation on the record proves to be elusive.
Swedish director Björn Runge ("Daybreak") handles the procedural aspects of receiving the Nobel well, using the amusing formality of it to balance out the heavier relationship conflicts. And he's blessed to have such a great team player in Pryce, who allows himself to look positively pathetic in places. In one very telling scene, Pryce, who is constantly nibbling or eating something throughout the performance, attempts to write something on a walnut. It's the way Pryce shakes a bit and struggles with the nut in his hands that sells the character's vanishing confidence.
And on the other end of the spectrum is Close, playing opposite Pryce as the always in control wife, who manages nearly every aspect of Joe's career. Runge's camera is carefully trained on her as she takes it all in. Her husband is so terribly insecure, but, perhaps, she had a hand in the coming emotional collapse.
We've seen this kind of narrative before in, for example, Tim Burton's perfectly fine 2015 film "Big Eyes." Here the events are much tighter, and although through flashback we get some clues as to how the Joe/Joan relationship developed, the bulk of "The Wife" takes place over a couple days. And as much as the gender equality issues are important, I think the father, mother, and son story is much more impactful.
There is a moment where I questioned Joan's thought processes. She smiles slyly even mischievously as those around her praise her husband and his writing. And when she looks at her son when he asks her about his own writing, the same look comes over her. Close is so restrained and taut in this role that it is unnerving.
You never feel the least bit sorry for Joan, and that's precisely because Close plays her so utterly in control that it hinges on manipulative. It's a character that could be explored more in another chapter. I was reminded of Claire Underwood (Robin Wright) in Netflix' "House of Cards." It's an impressive bit of unsympathetic acting, Close gets the guarded characterization so right it's eerie.
With six previous Oscar nominations dating back to 1983's "The World According to Garp," Close is an actor that is long overdue for proper recognition. "The Wife" is one of her more understated roles but displays the actress' great power of presence. Just as she brought a lovely hush to the audience when standing up in a crowd in "The Natural" or how she managed her gender identity so carefully in "Albert Nobbs," Close is at her best when she's not yelling and flailing about. "The Wife" offers that quiet and intense Glenn Close, and it's a wonder to see.