US (Trailer)
Genre: Horror/Thriller
Director: Jordan Peele
In his followup to the wildly successful 2017 Oscar winner, "Get Out," writer/director Jordan Peele keeps the horror vibe going with what appears to be a little more conventional genre offering. But as"Get Out" showed us, Peele's approach is anything but conventional.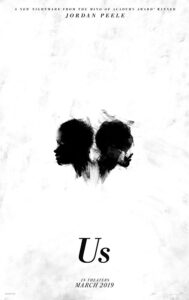 In "Us," we meet the Wilson family as they go for a vacation at their beach house. But when they are visited in the middle of the night by another mysterious family, all hell breaks loose.
This is quite a trailer, as it teases a lot of frightful moments and narrative threads. Cast is strong led by Lupita Nyong'o and Elisabeth Moss.
Look for "Us" in theaters on March 15, 2019.