Watch the trailer for THE FAVOURITE, which is having great success at the indie box office.
Sure to be a big Christmas hit, watch the trailer for MARY POPPINS RETURNS!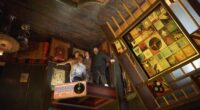 Watch the trailer for ESCAPE ROOM opening in January.
Watch the trailer for THE LION KING!
Entertaining Ralph sequel is a good showcase for the upcoming Disney+ streaming service.
Without Ryan Coogler at the helm, we get by-the-numbers "Rocky" sequel with Creed taking the hits.
Comedy director Peter Farrelly gets serious but doesn't forget his funny bone.
Playing it safe, director Reitman makes us appreciate the time but not the man and his flaws.
Viola Davis gets tough in Steve McQueen/Gillian Flynn action heist vehicle.
This Potter prequel lays the groundwork…