Greta Gerwig updates classic novel.
Ripped-from-the-headlines sexual harassment narrative gets big screen treatment.
Safdie Brothers' manic style keeps us riveted and aghast
Jonathan weighs in on the final film in the new trilogy.
The amusement park comes to the metroplex with yet another sequel.
Clint Eastwood's latest is an improvement on his last directorial effort.
Interesting idea for a short film has trouble translating to feature length.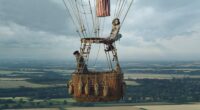 Felicity Jones and Eddie Redmayne reteam for balloon adventure.
Taika Waititi's dark satire provokes much discussion.
Director's edgy debut comments on important issues within the crime/road picture genre.