Bleak Czech drama isn't for everyone
Documentary chronicles seven years in the life of a comedian in personal crisis.
Disney $75M gamble has paid off handsomely.
Sabrina Carpenter stars in affecting teen drama
Jon Stewart directs and Steve Carell performs in timely political satire.
Joseph Gordon-Levitt contained thriller hits Amazon Prime.
In his review,Jonathan asks whether we can ever get too much Dafoe?
Pete Davidson's life serves as the inspiration for heartfelt drama.
First-person-shooter filmmaking gets another feature.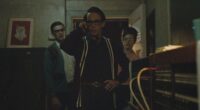 Jonathan calls this one a marvelous science fiction indie.